How does the laser cap or Capillus device work?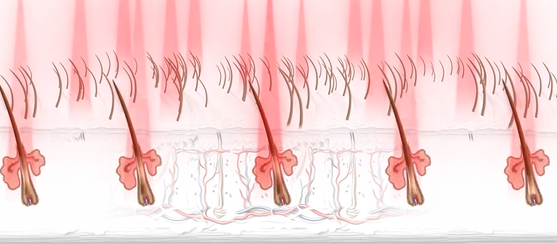 Years ago, scientists discovered that certain spectrums of visible red light had a positive effect on growing or restoring hair. After careful study, it appears that effects on hair growth are due to the laser energy penetrating the scalp and stimulating the cells in the hair follicle to renew the follicle, leading to thicker and healthier hair. There are many devices that have been studied and shown to provide good results in men and women experiencing hair loss.
More technically, the laser caps bathe the scalp in low level light energy which stimulates more ATP (adenosine triphosphate) production in the cells at the base of the follicle. This leads to hair follicles coming out of the dormant phase and results in active growth. 
All laser caps and laser combs work, but not all caps and combs work equally. Obviously more laser lights in the device leads to more energy in the scalp during your treatment. The more energy you get and the more coverage you stimulate on your scalp during your treatment, the better your results.  
The laser caps can be used as a stand-alone treatment or they can be used in combination with any other hair loss treatment. For example, many people will use laser caps in combination with minoxidil, oral medications, or PRP injections. Even with hair transplants, we routinely provide laser light treatments following the procedure to assist with healing the wounds and to help the follicles recover and grow quicker. 
At Pinette Hair Restoration Clinic we carry a laser device for every budget. We have entry level Capillus 82 which has 82 lasers to treat the scalp. We also have devices that go up to 202, 224, 272, or 312 laser lights. We can discuss which option is best for you during your consultation.